Round 11 and almost definitely the deciding round for the 2013 Season 2 road to pro competitors. With Zolder expected to be a ghost town the driver all knew what they had to do this week in order to qualify for the Pro series and finish in the top 10. Spa a track that attracts participation like no other in the Grand Prix Series, was sure going to be busy. Add to that a few new faces that turn up to get some early running in the car before making a run on next season's championship, the WCS running there at the same week, this was going to be one competative week.
Lee Thompson
What a great track to get to use my new rig with triple screens!! Really got to see the benefits of the FOV on the first laps 🙂 Was a decidedly average weekend though:
Race 1 – Ended at Pouhon when Aleksi Eloma quite reasonably did an emergency stop to avoid an incident ahead and I plowed into the back of him.
Race 2 – Tommy Nilsson and Mikko Meriluoto got together approaching Les Combe on lap 1 and my great new FOV allowed me to track their path all through the incident allowing me to only get a damaged front wing rather than writing off the whole car. Finished with my highest points score of the week with a 7th place even after pitting and taking on fuel at end of lap 1 thanks to everyone else falling off as well!!
Race 3 – Started from pole and had a great initial launch then spun the tyres up just before selecting 2nd! Somehow kept it out of the wall and everyone avoided me, shuffled all the way to the back. Turned into Les Combes to find a car stationary and again a lost front wing meant another trip to pits. Poor concentration then meant my race ended shortly after.
Race 4 – Main strength of field race started from 10th on the grid and had a very cautious first lap shuffling me back down the grid. After several laps I caught a wounded Mancusi and I was surprised by him trying to defend his position even with damage and we made contact at the Bus Stop again resulting for another pit for new front wing 🙁
Won't be running at Zolder so looking forward to giving a good shout at Pro next season!!!
Alex Simpson
Spa-Francorchamps has never been the best of tracks for me but with the World Championship Series and the iRacing Grand Prix Class A Series here it was time to try and find what has been missing the last times I have visited this truly stunning race track.
Practice went well and the car setup started to take good shape and those 2 tenths of a second I was behind my rivals last season were found and my personal best lap time dropped to a 47.6. Happy with the pace it was just about finding the consistency in the car over both the race and 1 lap run, ready for race day.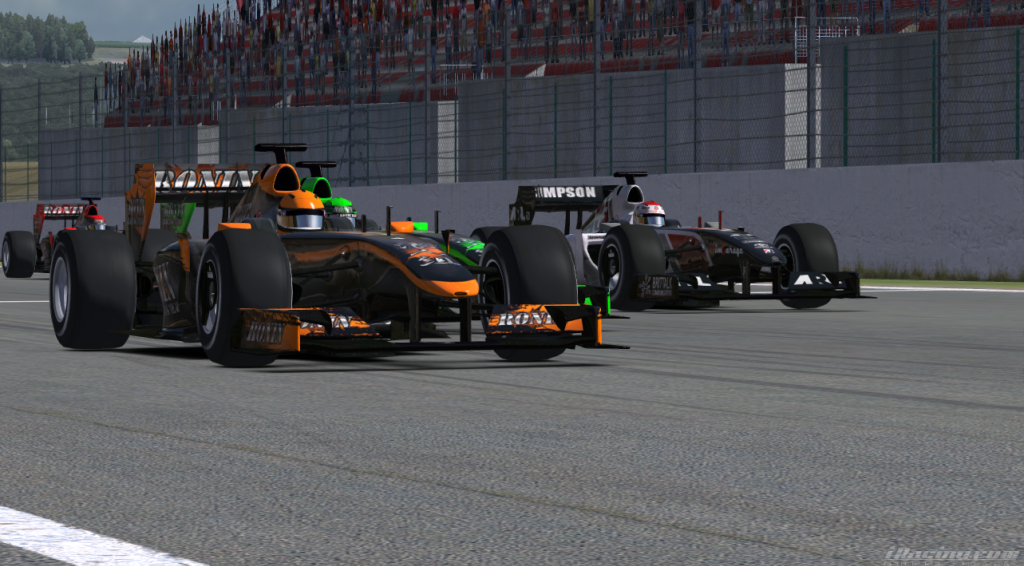 Qualifying for the class A series was just about putting in a respectable time that would get me on the front 2 rows of the grid and a 1:47.8 did just that. However the WCS qually didn't go as planned, with my 1:47.9 banker lap counting after snagging the grass on what would have been a sure 47.7 lap time 🙁
So with once again only one spot for the Pro's on the grid I would have to sit out the race. While I was a bit gutted It was for a good reason as my connection dropped and was offline during the whole race. I guess sometimes things happen for a reason 😉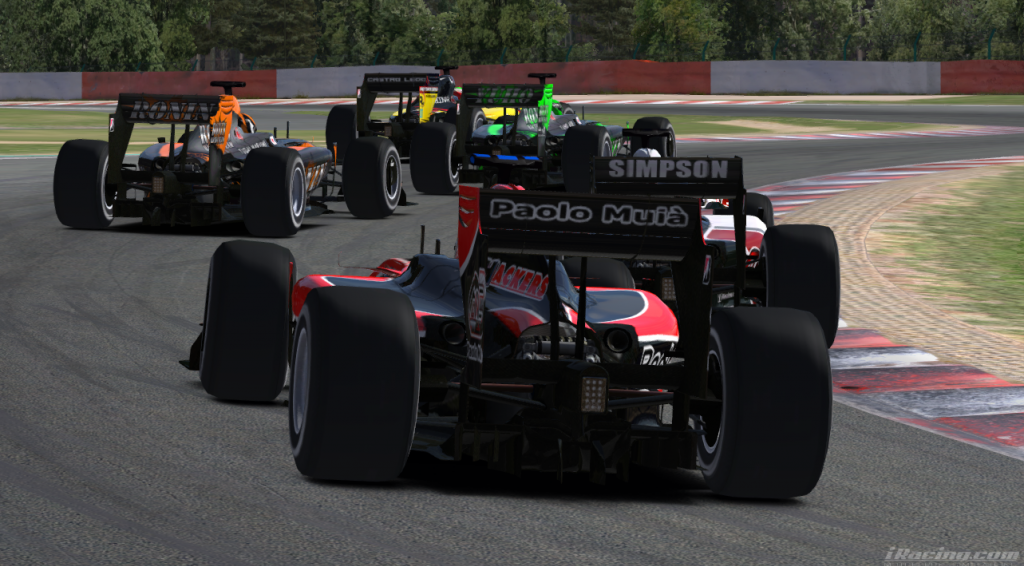 I did 2 races, the first was straightforward and I took a lights to flag victory but the real challenge was the 2nd race. Plenty of Pro drivers and World Championship drivers meant this was going to be a tough race to win. I made a great start from 4th and while I looked to go through the middle of the cars in front the gap soon closed and was forced to hold place in turn.
After a very safe lap from the whole field, with everyone giving each other the room they needed the race really started to kick into top gear. I could see the 3 drivers ahead (Ricardo, Yuho & Yudai) getting very close to one and another and my usual cautious nature took over and left a half second gap to the fight ahead just in case. I was right to drop back as the 2 front runners came together in Les Combes, spinning out covering up most of the race track. Yudai and myself slipped by as did the 5th place Paolo Muia all be it he picked up some front wing damage in the process.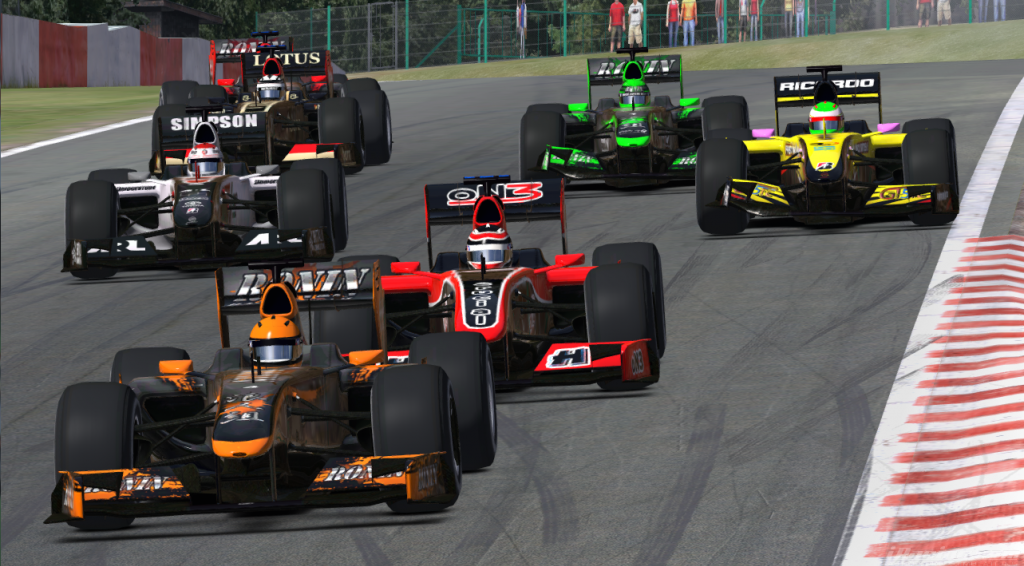 This left the field spread out a little with just Yudai and myself fighting for the top spot, while I was able to put pressure on Yadai in the early laps it soon became apparent he was running slightly more fuel than I and that his car was balanced more towards the low fuel end of a run. I kept the gap to about 1 second until we hit traffic but from there his low fuel pace and great traffic management just meant I couldn't keep up.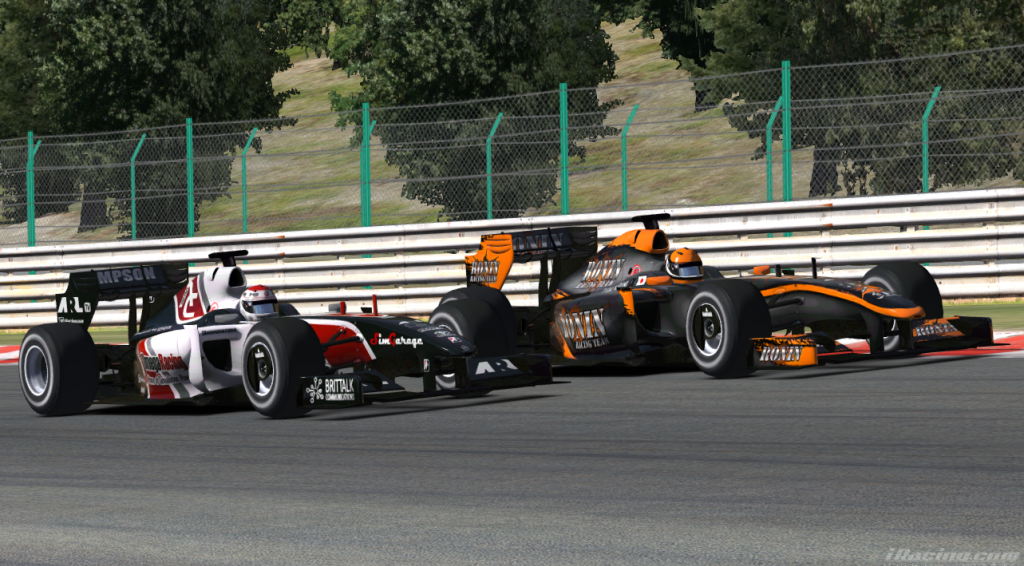 In the end I was pretty happy that being careful won out over dam right aggression again to pick up a solid 2nd place. That said I still need to find a further 2 tenths of a second lap time around Spa if I'm every going to fight at the front of the Pro and WC Series.
Nice 2 weeks break now with the end of the season being run at the ghost town that is Zolder.
I also want to take the opportunity to congratulate Mike Gomen and Lasse Bruun-Hansen for not only securing their Pro Licences but also for winning the team championship for ApexRacingUK
See you all for Season 3.
Mike Gomen
Spa brings the competitive urge to a frenzy in people and I struggled to keep pace here more so than any other! People practice this place way too much. 🙂
I expected a 5th-7th place finish or so in the big SOF Saturday race, but I came across a huge stroke of luck and managed to wiggle past all five broken F1 cars as they peeled away in front of me, one incident after another! The voodoo dolls I bought on the corner downtown actually worked…. Anyway, I kept a safe but brisk pace and held my new-found lead against Ryosuke Iwasaki for the rest of the race, if only just, bringing in a huge rake of points and perhaps my biggest win in iRacing history.
The next big race on Sunday I couldn't find my dolls in time and had to go this one alone. There was a brief but intense battle with Mancusi who I managed to get past, another one which I lost vs Jarl Teien (who BTW came out of nowhere and was scary fast), and then I eventually settled in to place with only Olli Pahkala behind me. I'm proud that I was able to keep him still for a good while as a tiny dot in the mirror, but eventually I cracked and over-shot a corner which allowed him by. Again I was keeping up with him and even catching him back at certain points but just couldn't maintain! I ended up settling for 8th which is good enough for me considering the extremely high level of competition that Spa always brings.
With the last week on the schedule likely being a dud, that about wraps the season up and I'd like to thank Apex Racing UK for inviting me and the support I needed to slide into the Pro series after my second season! Also congrats to Lasse as well who is coming with too! Thank you men, and here we go!
Lasse Bruun-Hansen
Week 10 – Sonoma:
Entering this week I had a 148 point race from Suzuka to drop. I wasn't really expecting much from this week, as it was a very unpopular track, and participation/points was going to be quite low. Anyhow practice went well, and I actually enjoyed lapping around here.. I decided only to race if there was going to be a split, otherwise there was no point to it… The last and usually biggest race of the week (Sunday 18 GMT) was due, and I still hadn't raced, so I decided to do it anyway even though it wasn't going to split. Best decision all week!
Sitting 5th on the grid, I got a good start and settled in 4th position behind Mikko Meriluoto in 3rd, Tommy Nilsson in 2nd and a new (really fast) face Mikko Nässi in 1st.
Lap 7 – Tommy spun out and I was up to 3rd.
Lap 8 – Mikko Nässi, was rear-ended by a backmarker he just overtook and sustained heavy damage. Mikko Meriluoto and I got by, and the race was on for the top spot on the podium. This fight continued right up until lap 22, with me close behind.

Lap 22 – Mikko Meriluoto went too aggressive on the inside curb in T4 and spun out, letting me grab the lead.
Pitstop on lap 34 went well, and now the pressure was really on! Tommy Nilsson (whom I know is one of the fastest guys in the series) was just 8 seconds behind, and closing in. With 15 laps to go I really had to keep cool and focused!
I was pushing so hard those last laps, and still Tommy was closing in! With 4 laps to go he was 3 seconds behind me.. With 2 laps to go I was also rear-ended by a backmarker I just overtook! Luckily, I didn't get any damage but that was quite a shocker with Tommy breathing down my neck.
Managed to keep my cool the last laps, and took the first win of the season with 2½ seconds down to Tommy! Very pleased with that result. Probably the most intense race of the season, and much to my surprise, I was the highest scoring driver of the week with a whopping 191 points! More than expected from this week…
Week 11 – Spa:
With the good results from last week, I now had a 100 points lead to my closest rivals for the Pro license. Seeing that they were not going to race this week, the spot was pretty much secured !!! It was going to race anyway since this combo is one of the best, but there really isn't much (positive) to tell from those races.. Qualified 7th among the A-class drivers, and was happy with pace/car.
2 first race attempts wasn't good, with car contact and a slightly damaged car. Managed to get it home, but the points were no good.
Final and biggest race of the week, the Sunday 18 GMT broadcasted race, started out really good ! From 7th on the grid, I was up to 5th position by Les Combes, tucked in behind Jan Niesiolowski. I stayed there until lap 4…
Entering T9 I had really poor performance (fps-wise, which had been a problem all week), and I partly blame this.. I went too wide, and was too careless getting back on the throttle, when still on the exit-curb. This was the result:


Race over – in a cloud of shame…
Now I'd like to thank the whole team Apex Racing UK for all their help during this season! I am overly happy to have claimed one of the 10 Pro licenses this season, and I can't wait till the Pro series 😎  Also a big congratulations to Michael Gomen, who also got his well earned Pro license!
Season 3 will most likely be much more casual from my side, but I'm still going to race.
Categories: Alex Simpson, iRacing Grand Prix Series, iRacing Videos, Lee Thompson